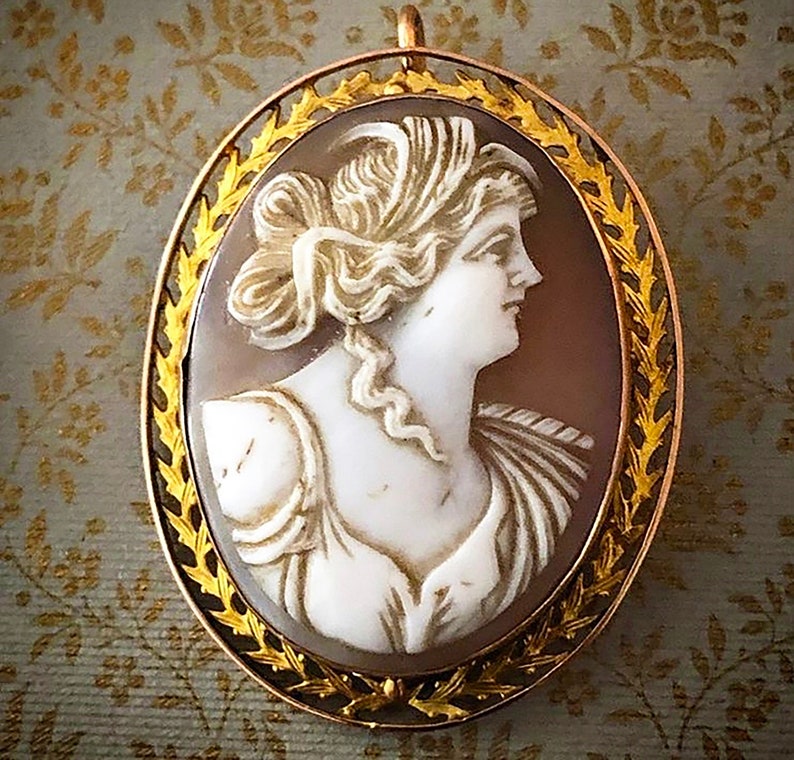 We might have seen them in antique stores, or on our grandmother's jewellery box, small portraits, usually from a woman on a profile view carved in a white shell and added to a coral oval back, surrounded by many ornamented accents and being a versatile piece that could double as brooch or a pendant.

Most cameos represented women in classical Greek attires or pictorial scenes drawn straight from Greco-roman mythology, Artemis Or Diana on a profile with a crescent moon on her forehead, the three graces prancing delicately like ballerinas and other images are very common in this remarkable piece of jewellery.


This Greco-roman influence gives us an amazing start point for this pieces of jewellery to enter the world of fashion as discoveries in archeological expeditions and the uncovering of many ruins and temples at the beginning of the 19th century sparked a neoclassical wave that influenced painting, music, sculpture, attires and many other forms of art, including jewellery.

The most versatile of the jewellery pieces in my opinion, cameos were not only worn by women, as men would also wear then in the cravats, side pockets or the fold of a coat. Of course cameos for men depicted masculine scenes, like a water bearer almost naked, profiles representing classical heroes from literature like Achilles and roman emperors.





Most men and women from the higher classes would commission their own portraits on a cameo.

Not as common today (sadly) many cameos remain as amazing legacies of intricate design and fashion from the previous century. We can find them in antique shops commonly, but there are still goldsmiths and carvers that will create them, and you can even commission your own portrait.

I hope this small article was informative and spark your curiosity about cameos and vintage jewellery! 


-Mauricio